Intro Tour
Part 1

PG Basics are free to use.

Part 2

PG All Genius1 adds all our Professional editing and production tools including Key Genius, Color Genius, Text Genius, Chart Genius, and Select Genius.
Description
PatternGenius is an app for creating knitting charts and patterns using a beautiful vector based symbol set that includes a large number of increases, decreases, texture, cables of all sizes, variable symbols, and more. Share to your camera roll or as a PDF for vector images. Generated patterns can include the chart, key, custom images, notes, and written instructions.  
PatternGenius is free to use with PGBasics
Use all symbols including our unique variable symbols.
Tap and Paint modes, Undo/Redo, and row/stitch numbering.
Share charts and keys to Camera Roll and PDF (vector).
Sync with Dropbox to backup and archive projects.
iCloud to sync between devices.
Multi-tasking and Split Screen.
Apple Pencil.
Add your own picture and notes.
Unlimited number of projects.
25x25 charts (larger/smaller charts available with in-app purchase).
Purchase AllGenius to add all our professional features. Click here for pricing.
ColorGenius Add color to your charts including colorwork, symbol color and fill.
ChartGenius Change number of rows/stitches (up to 150x150), define repeat sections (vertical or jagged), hide/show rows, Favorites Bar & more.
SelectGenius Cut/Copy/Mirror/Fill/Replace a selection (region, row, column, entire chart) and mark repeat sections.
KeyGenius Customize the abbreviation, short, and long descriptions for all symbols.
TextGenius Auto-generated written instructions for any chart.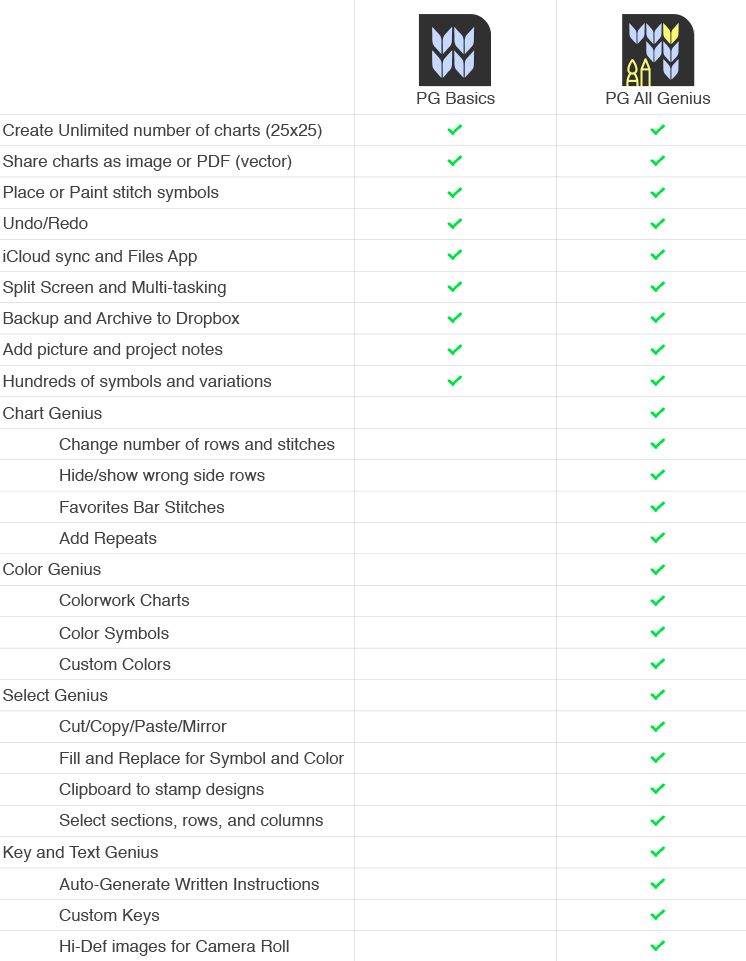 General
Projects
Design
Publish